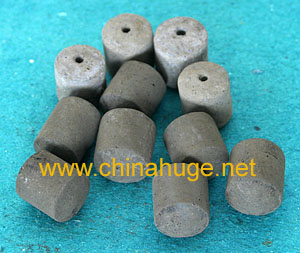 Model No . PT-KF6
Chemical Formula : NH3->0.5N2+1.5H2 HCH+2H2O->0.5N2+2H2+CO2
Product Specifications
1. Grey sphere or column
2. size: 18 ± 2mm (Diameter). 20 ± 2mm ( Height)
3. Specific Surface Area: 1 -3 m2 /g
4. Nickle percentage: 6.0% or above
5. Compressive Strength: 1000 Mpa
6. Working Temperature: 1300 °C
7. Bulk Density: 1.5 ± 0.1 t/m3
8. Operation Temperature: 1050 °C ± 50 °C , operation pressure: normal pressure:1Mpa, Gas flowing speed: 1000-3000h-1; NH3 decomposed rate; 99%
Applied Area
This product is a new catalyst to replace German G-117, which is developed by our company together with CAS Da Lian Research Institute of Chemistry and Physics. This product has such features as high catalysis, high intensity, good thermo-stability, poisoning resistance and coking resistance. This product is mainly used in the NH3-decomposed stove which is for coal gas purification and recycling equipment. This product can decompose completely the poisonous gas inside the coal gas such as ammonia and cyanide hydrogen into N2, H2 and CO2 and solve the environment pollution problems efficiently.
Package : One paper drum loaded 25kg products with one inner plastic bag .