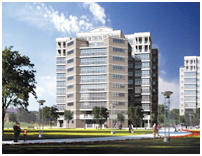 P&T Transfer Media Co.,Ltd. is an Pingxiang-based mass transfer technology company that develops, manufactures, installs, and supports a wide range of mass transfer equipments and ceramic products for modern chemical processing industry, water treatment industry, petrochemical industry, high temperature combustion technology etc.
Originally founded to develop and sell BASIC tower packing for the Packed towers, P&T rose to dominate the home ceramic membrane emission control system market with our own patent PT963 in 2000, followed by the abrasive ceramic, structured ceramics and refractory materials.
After 30+ years development, today P&T's products line including: tower packing and column internals, Alumina ceramic ball and lining bricks, adsorbents and refractory materials. This full of products lines serve thousands of packed tower, RTO systems, kilns, ball milling systems in steel plants, coking plants, petrochemical plants, oil refineries, ceramic plants, mining plants etc.
P&T, a reliable partner who will create a beautiful tomorrow with you!