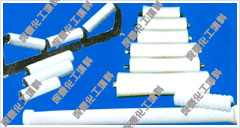 At present the domestic belt of transporting machine is commonly made of steel,it easily becomes rusty,easily corroded by chemical material such as acid,alkali,salt,the working period is only 1-2year,high abrasion ratio,and steel can be recycled,so the cracket made of which is often stolen.
So we developed high-strength sealed ceramic cracket,which doesn't become rusty forever and corrosion resistance.The working period of it impoved one time than steel ones,reaching 4-5years, smooth surface,and abrasion ratio is under 0.1%,longthen the using period of the belt.The cracket is not stolen because of no value of recycling.
The center of this product is minutely made of best steel,Using domestic famous brand and high quality axle to make transporting part,in and out of the axle are fixed maze sealed cirde,Preventing from water and dust.It is fixed on high-precision fixing cracket,high concentricity,the belt not sliding off This product is already ultilized by many industry plants.Which is used on belt transporting machine,and is well praised by all the customers.