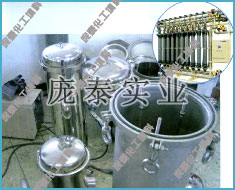 The over-filter is a great break in separating engineering,it can separate selectively the medium by the micro-porous of membrane and active mechanism,when the liquid mass flow over the surface of membrane under a certain pressure,the small molecules in the liquid is held back,so as to the small and big molecules are separated,concentrated and cleared.Further more,under the active condition of ceramic membrane,it can react to such structure as N,C,H in the waste liquid by the function of Oxygen,reach the intention.
Main characteristic:
1.the project of over-filt runs the common temperature and low pressure,low energy consumption, no need to be heated,no heat reaction and changes of the state,it can separate,concentrate,clear without adding any other matters.
2.the membrane of ceramic is chemical corrosion resisting, suitable for the PH scope.
3. The simple structure of equipment,small covering area and vonveryance equipment,convinient loading,and easily plugged into the existing production system,expand the density and add the the capacity of composision,also won't worry about the coming problems with it.
4.the project of separation is simple,operating simply,easily maitain.
5. The startup procedure is fast,easily control automatically.It can combine with other treatment,used in many kinds of working procedure of separating.
Uses:
1.the treatment of waste water containing oil and the side-filting of recycling water in metallurgy,chemical,electronic, oil,light industry.
2. the water treatment of the recycle of oil field.
3.applied to the filting in the tap water.
4.the waste water of emulsion in the steelrolling.
5.the treatment of metal clearing,the recycle of useful object in the waste water of industry,the treatment and recycle of waste in electroplating.
6.the coming after filting after biochemistrial treatment of organic dirty water and second sediment.
Efficiency
The suspension from liquid: ≤5mg/L,oil from liquid:2-10mg/L.Specification and model: according to customer's demands,is relative to the average diameter and the thickness of all of capillary of the porous medium,the pressure difference and the parameter of inactive liquid.All of these should be correctly defined by experiment and calculation.